All about my lifted Volvo 240XC
Since lifting Volvo 240's is getting popular recently I get a lot of questions about my car. What I have done to it and what the exact dimensions and sizes are. I try to answer all these questions on this page. If you still have questions after reading all this, mail me at johan@baddecision.works.
Is it a 4x4?
No. A 240 is a rear wheel drive car from the factory. I have upgraded the rear diff with a Racingdiffs LSD conversion kit. This possible gives a little more traction when needed. I do not have the diff for long so I can't give a decent review for now.
How much is the car lifted?
On pictures from before the 8th of september 2020 the car is lifted 3 inches (75mm) on the front and rear axle. On more recent photo's I have a 4" (101mm) lift on the rear axle. This 4" kit is not (yet) for sale. I want to test new products extensivly on the road before starting to sell them.
And widened?
On pictures from before the 8th of september 2020 the car is 20mm wider in the rear and 2" (50mm) on the front axle. On more recent photo's the rear has 30mm spacers. The front axle has BDW support arm spacers and the rear has hubcentric wheelspacers. I have modified the rear arches even more for this. 20mm is more than enough to clear the inside of the wheelwells and not rub on the outside.
What tire size?
Yokohama Geolandar A/T in 235/75 R15. This fits with some cutting in the wheel wells.
What did you have to modify on the car?
I had to cut the wheel arches to fit these bigger tires. On the photo below you can see the white dotted lines which are the original body lines. The red parts are the parts I had to cut away.
The red portion in the back is the deleted spare wheel wells. This is not needed for the lift kit! I did this to get some more ground clearance (and to fix some rust issues).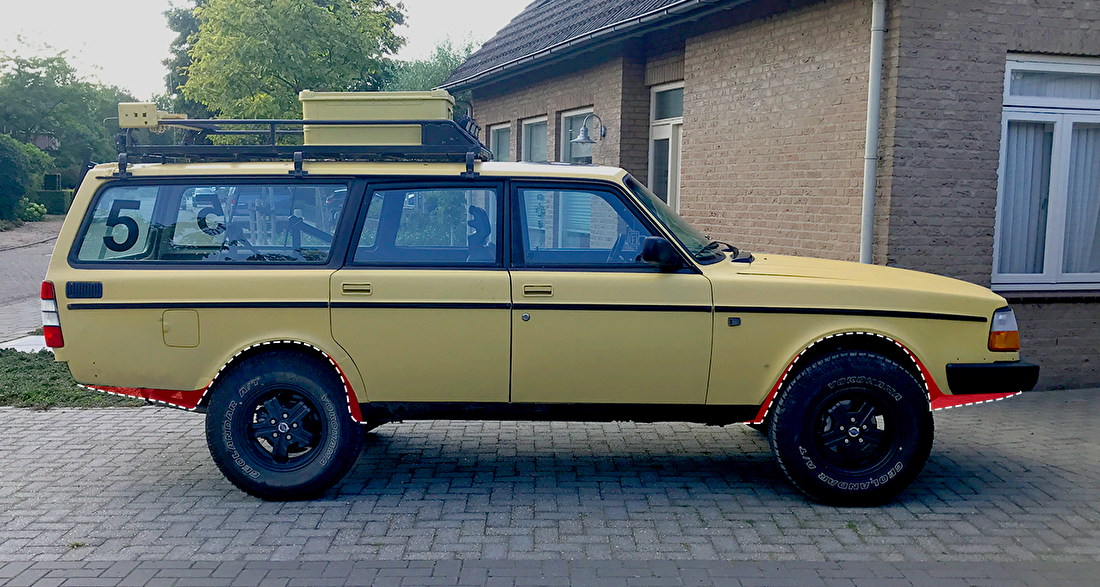 Is the paint original?
No. This is Raptorliner colored to RAL1002, painted by hand. This paint is super hard and doesn't damage (if applied correctly).
What else is modified?
Custom roofrack (I am designing a modular system to sell, so keep an eye on Instagram for updates!)
7 x LED bar, totall 410 watt
Zarges box on roof
Red/white taillights
40x50x3 tube welded underneath the tailgate as a steel "bumper"
Bumper delete rear
Spare wheelwell delete
Raptorliner bedliner paint
Volvo Virgo wheels
Leather interior
Sport steeringwheel
Snowcaps
Volvo 850 sidemarkers
Ladder on tailgate
Spare tire on tailgate
5mm alu engine protection plate
Volvo 940 driveshaft bearing upgrade
PU bushings in reaction rods
PU bushings in (adjustable) panhard rod
Braced support arms front and back
Volvo HD rear springs