240 - 740 - 940
Machined front strut extension tubes (set of two)
These extension tubes are machined from high-quality steel in the exact dimensions of the OEM front struts of a Volvo 240 (will also fit 740 and 940 struts!). The tubes have chamfered edges (45 degrees) for optimal weld penetration and a small straight edge to help with alignment before welding to the existing struts.
By default, these tubes are 75mm (about 3") long, but they can be made in every desired length. Enter a custom length before adding this product to your cart. If no length is entered I'll make them 3" long.
Optionally orderable with spacers for the shock absorbers as shown in the second picture. These spacers are shaped to fit the original struts and shocks perfectly so the forces on the shocks are distributed evenly.
Mind you: make sure to weld in these tubes perfectly in line with the original struts or else the shock absorbers will not fit anymore!
The products are unpainted or treated in any way. Make sure to clean off any dirt, grease or rust before welding! Each set consists of two strut tubes and two shock spacers. You need to order one item per car you want to extend the front shocks on.
Warning! For offroad use only and use at your own risk! Make sure to check your local laws to see if it is legal to modify the suspension of your car in this way.
Installation instructions
To install these tubes you need to disassemble the struts and cut them in two. First, you have to clean the struts right under the spring perches (it's important to work underneath these perches!):
Then you draw a line perpendicular to the tube. This is easy with a piece of angle iron:
Then you cut the struts, an inch or two under the spring perch: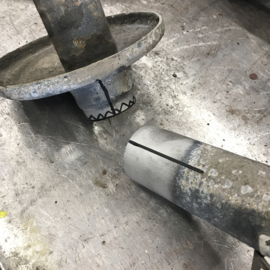 Then draw a vertical line on the extension tube and place it between the two cut strut parts: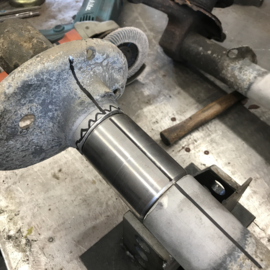 To align the tubes with the struts it is a good idea to stick something in the tube. It's very important to keep everything aligned properly to be able to re-install the shock absorbers afterwards. Then weld the two gaps and the struts are ready. Then you can insert the spacers and re-assemble the struts with the shock absorbers.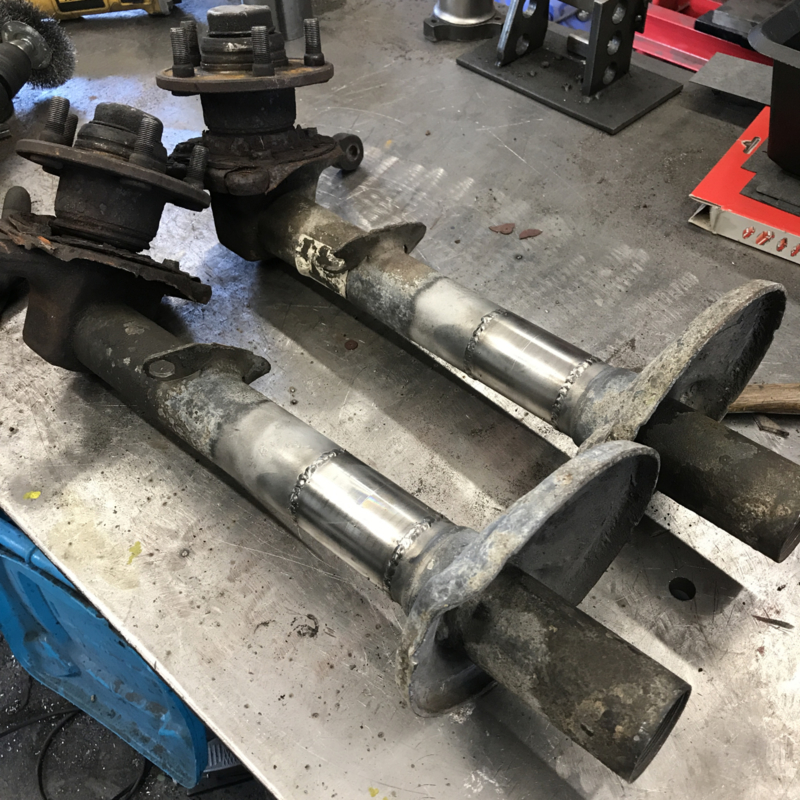 When assembling please note that the lock nut on top of the shock absorber is threaded in as far as possible. It does not have to thread all the way down, but at least have a decent amount of threads engaged. Not all struts are created equally, so it is possible that the spacers are too long. You can fix this by grinding a little of the top and bottom of these spacers.